When our first child was just six weeks old, my grandmother died unexpectedly of heart failure. She was 88, so it wasn't as tragic as that might sound, but I still miss her greatly. I still remember trying to get to central Arkansas from Orlando, where we lived back then, and hoping I could introduce her to Gracie before she was gone. We didn't quite make it.
She and my grandfather were married for half a century, and she lived on almost 20 years after a heart attack took him from her as he tended to an Angus bull on their cattle farm. They built every bit of that farm themselves-- cedar post fences strung with barbed wire, an enormous pole barn, a one-room cabin later replaced by a 1950s ranch that she lived in until the weekend she died. Granddaddy's family had owned the land since the 1850s, but they started their life together penniless and turned their piece of the land into a beautiful little farm, bisected by a creek, rolling with hills and good pasture. None of us wanted to farm cattle, though, and so when she passed away, we knew we'd have to sell it. It was a difficult decision. It's a bit ironic that their success with the farm led to college educations for the rest of their descendants, and therefore the end of the family's long history in Dardanelle, Arkansas.
A few months after her death, I was at her farm with my parents, trying to sort through the accumulation of 88 years of belongings (of a couple who'd survived the Depression and therefore hated to throw away anything remotely useful-- including items as mundane as ketchup packets and used envelopes). I chose just a few big pieces to welcome into our home: her secretary desk, a full size bed for the guest room, and-- best of all-- two old green metal lawn chairs that had sat in her backyard throughout my childhood.
They're big, sturdy chairs, simply made and slightly bouncy to sit in. I can't count the number of times I saw her or Granddaddy sitting in those chairs while we played in the yard. As I loaded them up, though, I saw some rust and signs of deterioration. The bolts that held them together were crusted with rust and corrosion. I knew that someday, I'd have to fix them up if I wanted to save them. I'd seen how metal lawn furniture of this vintage can quickly chip and flake if carelessly spray painted, so I wanted to find a more permanent solution.
We moved back to Arkansas and bought the beloved but time-sucking house. Another baby showed up. Life began to get impossibly busy. Four years pass.
This summer, I found myself promised to host a women's brunch and was a little embarrassed about all our home's "rough edges." When you get pregnant unexpectedly a month after moving into a restoration/renovation project, plans tend to get delayed a bit... and we'd let that excuse ride a little too long. I spent a couple of weeks before the brunch doing a number of other little projects around the house.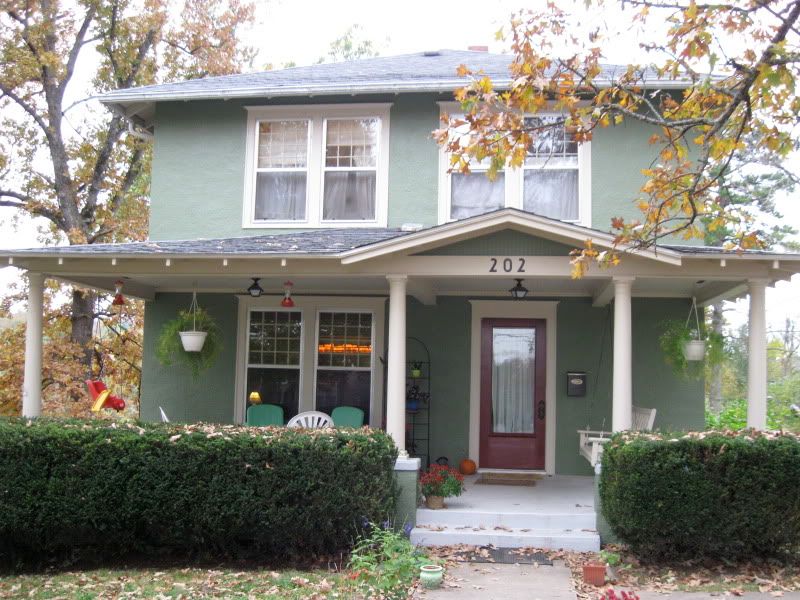 ...This project is my favorite, though. Grandma's chairs had been sitting on the front porch since we moved in, and once the house was painted, they started to look really out of place and shabby. (You can just spot their two backs behind the shrub in this photo from last October.) One day in June, I loaded them up and visited an auto body shop down the road, one owned by an older gentleman whose eyes lit up when I told him why I wanted them refinished well. He charged me $100 to repaint both chairs and the little side table-- and I consider that a great bargain. These chairs are now custom-painted to match our house and coated with nearly indestructible automobile paint. New steel bolts, nuts, and washers completed their transformation, and I put them back together myself.
It's surprisingly satisfying to see them on my front porch as we enter and exit each day, or to sip a cup of coffee in them with my husband in the morning before the kids wake up. I feel like a piece of the Fulton Angus Farm lives on, right here on my porch. The chairs from the Old Home Place have found a new life at what we hope to be our family's Home Place; perhaps someday my daughter or granddaughter will be hauling them off to her house, just as determined to save them as I was four years ago.
It's a tad silly, but I hope Grandmother and Granddaddy have a chance to see them somehow, and that they make them smile.
(If God let Grandmother see me writing the check to the autobody shop, though, I'm gonna hear an earful someday. She'd be horrified that anyone spent $100 on those old chairs.)